Map Unavailable
Date/Time
Date(s) - 08/08/2019 - 10/08/2019
12:00 am
Categories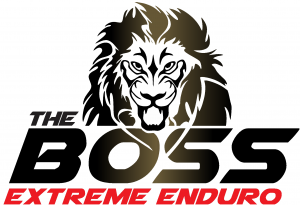 What is The BOSS Extreme Enduro?
The BOSS is all about achieving something extremely difficult and rare – a BOSS RIDER Trophy that sets you apart from other riders and makes the emphatic statement that YOU ARE A BOSS ENDURO RIDER.   Only 50 BOSS Trophies will be available every year, and it won't be easy to be in the running for one of them!
Format
The event will start on Thursday 8 August 2019 and finish on Saturday 10 August 2019. Thursday will be a tough "prologue" which will set the scene for what's to come.
Friday will be a longer and tougher day and getting to the finish line will demand a lot from you in fitness and technical riding ability.
Saturday will see the top 50 gladiators competing for top positions, and for that Prized BOSS RIDER Trophy!
The remainder of the field who have finished the first 2 days will also continue riding to claim their BOSS Survivor Medal.
Qualifying Criteria/ Limited Entries
To enter The BOSS you need to have finished a Silver or Gold level Roof of Africa or Silver or Gold IMPI Hard Enduro in the last 2 years. If you have not done either of those, you may apply for an entry and we will consider it on merit.  There will only be 120 entries available for 2019.
Where will The BOSS be held?
The inaugural round of The BOSS will be held at the Mnweni Cultural Village, 32 km's west of Bergville, KwaZulu Natal in the Central/ Northern Drakensberg. "Wild Will" Gillitt is assisting with the setting of routes.
License Required? Yes – A WOMZA License is required – One-Event licenses will be available at R300.
Entry Fee: R2500
The entry fee will include an event tee shirt and a goodie bag.
Accommodation
Limited accommodation in rondawels and camping is available at Mnweni – book directly with LEONARD at Mnweni on 072 712-2401.
There are various other accommodation venues not too far away. The easiest is to let SURE Travel Set arrange accommodation for you:
Land Line: 016 349-2661;  Cell: 082 773-7902;  email: lizav.tts@galileosa.co.za
Information Sheet download:  The Michelin Boss Extreme 2019 

ENTRIES WILL OPEN ON THE 28TH MAY ! Please enter on Race Control – Click the word to go to the website.