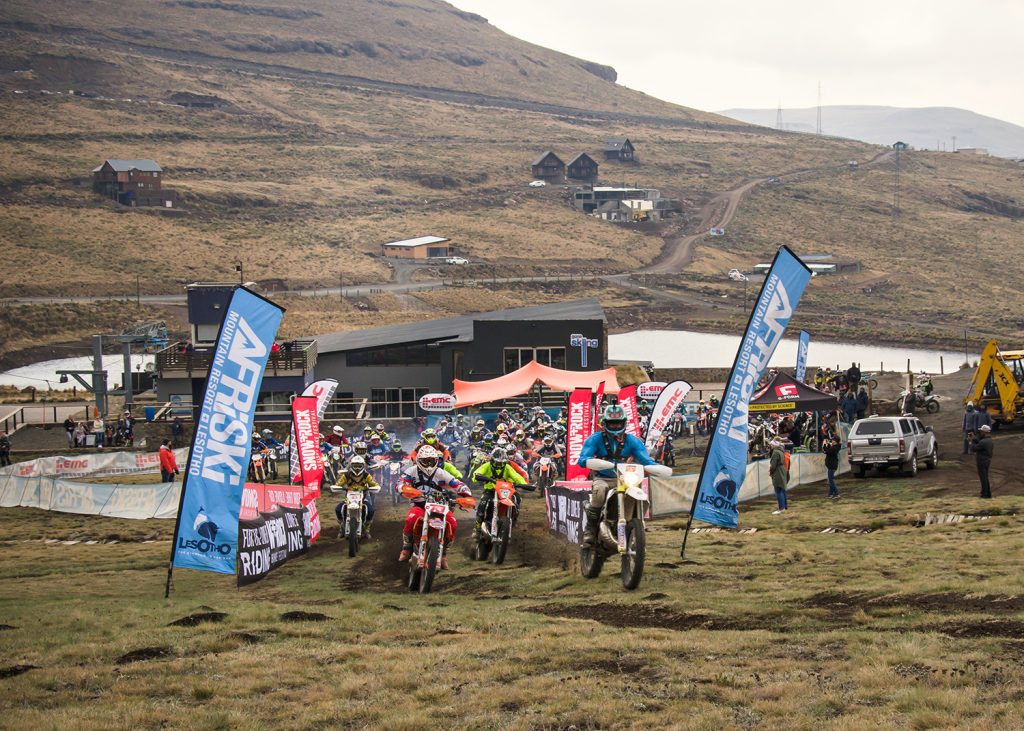 On the weekend of 26 and 27 October 2019, Afriski Mountain Resort hosted another successful edition of the ever-popular Snow+Rock Enduro motorcycle event. While the recent warmer weather put paid to any last vestiges of winter snow, there were more than enough rocks on the route to make this a rewarding and challenging event for participants of Novice, Intermediate and Advanced skill levels.
The partnership between Afriski and Wild West Enduro Track delivered an event that – to judge from all the feedback received – was perfectly pitched to offer a balance of serious riding challenges and family fun.
The setting for Snow+Rock – high in Lesotho's stunning Maluti Mountains – provided unique riding and exceptional views across the Mountain Kingdom. The altitude and rocky nature of the routes for the event are not dissimilar to that which will be encountered at the iconic Motul Roof of Africa in December. This added an extra dimension for many of the Advanced riders, who relished the additional training opportunity with the Roof now only weeks away.
At the same time, Intermediate riders got to experience the satisfaction of pushing themselves and their motorcycles that little bit harder than usual, and the Novice riders could revel in that wonderfully invigorating blend of pride and relief that comes at the end of any outride in Lesotho.
In a refreshing reflection of how the world of Enduro is changing with the times, this year's Snow+Rock event had noticeably more female riders taking part – and in many cases, proving themselves more than capable of handling anything the landscape could throw at them!
The Advanced category of course saw the most intense competition. After some fun but competitive riding, the podium on day 2 comprised of Brett Swanepoel in first, Jaco Den Heyer in second and Dylan Jones in third. Brett, in particular, was in superb form and he has clearly put last year's severe wrist injury behind him. His ultimate goal for this year, is a podium finish at the Motul Roof of Africa, which would cap what has been a remarkable comeback year for him.
Francois Marais, one of the founders of the event and owner of Wild West Enduro Track, professed himself very happy with how the event had gone: "The feedback from the riders was overwhelmingly supportive of the event and many were asking for the 2020 Snow+Rock dates to add the event to their annual riding calendar. The dates will be released soon on the Snow+Rock Facebook page for that reason."
Martin Schultz, Snow+Rock Enduro Route Director, made a point of thanking his marshals for their efforts in keeping all the riders safe and helping them to successfully negotiate tough passes like the notorious Double Dutch.
"We were happy to see family members and friends here in Lesotho supporting their riders," commented Peter Peyper, Afriski Mountain Resort's Sales & Marketing Director. "Next year we'll be offering even more impressive spectator points with music, a chillout area and of course the spectacular views for which Snow+Rock is famous and encourage even more non-riders keen for some adventure, to join us," he added.
Spot prizes were handed out to riders befitting of titles such as Longest Day, Top Finishers for Women and Children, Best Spectator among others. Prizes were sponsored by Fox, Motul, KTM Durban, Paul Mitchell hair products, Nomadik Tents, Hedge Hog Shoes and a 4-night stay at Fairhill Nature Reserve from Mike and Lorne Burger.
To see more images and watch the videos from both days, go to the Afriski Facebook page and to find out about other exciting events check out their website: https://www.afriski.net/