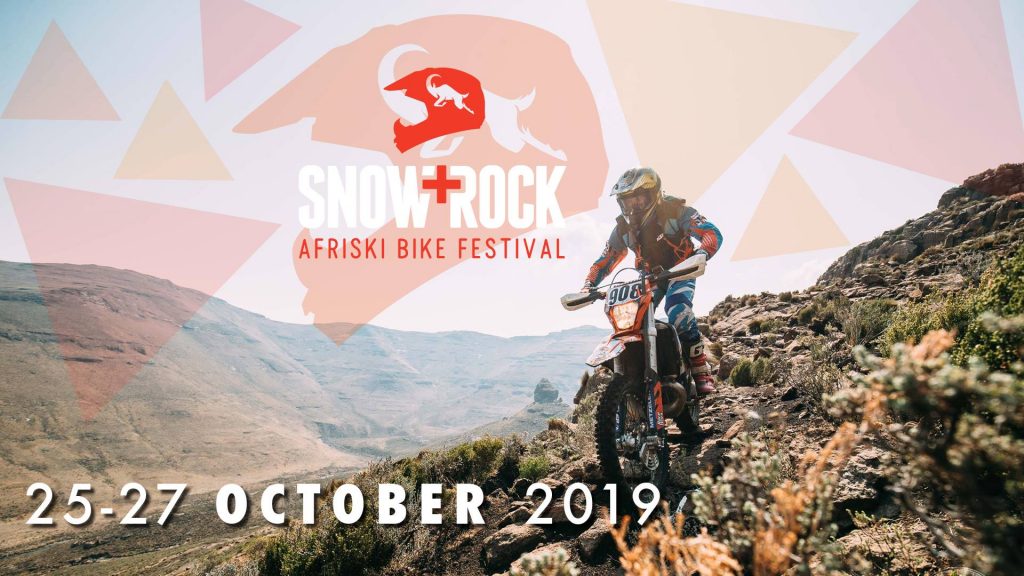 Afriski Mountain Resort is once again hosting a true bucket list event for motorcycling enduro riders of all capabilities, from novices to experienced riders. Snow+Rock Enduro also promises to be a wonderful occasion for their families.
Deep in Lesotho's beautiful Maluti Mountains, Afriski has teamed up with Wild West Enduro Track to create an event that promises fun for beginners, a rewarding challenge for intermediate enduro riders and a chance for advanced bikers to hone their skills.
As this event takes place at the end of October, snow may be a little thin on the ground – but there'll be no shortage of rocks and beautiful scenery "We're delighted to be hosting Snow+Rock Enduro once again," commented Peter Peyper, Afriski Sales & Marketing Director. "The variety of terrain around Afriski – both high altitude and lowland – means that riders of all skill levels will find something to surprise, delight and challenge them. This is a great opportunity for enduro riders to boost their confidence and get to grips with the kind of riding that only Lesotho offers," he added.
The routes for this year's event have been carefully planned for enduro riders of every skill level, and will also feature key vantage points where supporters can gather to cheer on their favourite rider. The added benefit is that the course for Snow+Rock Enduro is outside the restricted area for this year's Motul Roof of Africa, so riders can practice in similar altitude conditions without contravening the rules.
This year's route will offer participants the chance to experience both the mountains and lowlands of Lesotho, as Martin Schultz Snow+Rock Enduro Route Director points out. "The Lowland Ride can be self-navigated as a race against your mates, or enjoyed as a guided group outride. The second day's 40km Altitude Ride takes things up a notch – literally – thanks to its combination of technical sections and flowing terrain. Again, it can be raced or taken at your own pace," added Martin. Both days riding will offer great routes for the 3 categories – Novice routes will be guided and marked, the Intermediate and Advanced routes will be self-navigation routes and so a GPS is essential.
And unlike most other enduro events, Snow+Rock is just as welcoming for supporters and families as for the riders taking part in the event. "We're certainly encouraging riders to bring their families to Snow+Rock Enduro," said Francois Marais, one of the founders of the event and owner of Wild West Enduro Track. "As well as watching the riders tackle the mountains, partners and kids can enjoy their own adventures with a wide variety of activities on offer at the resort before heading to Africa's highest restaurant to cool down with a Maluti beer or warm up with a mug of hot chocolate."
Afriski and nearby guest houses offer well-priced, extremely comfortable accommodation with stunning views and catering options including the Sky Restaurant at Afriski – Africa's highest eatery.
Event Details
Snow+Rock Enduro 2019
What: A 2-day motorcycle enduro event featuring a Lowland Ride and an Altitude Ride.
When: October 25 – 27, 2019.
Where: Afriski Mountain Resort, Lesotho (and surrounding areas). Afriski is approximately 5½ hours by road from Johannesburg, 4-hours drive from Bloemfontein, 6 hours from Durban, or a 14-hour drive from Cape Town.
Who: Novice, Intermediate and Advanced Enduro riders.
Cost: R750.00 per entry for the 2 day ride (includes goodie bag and exclusive Snow+Rock event T-shirt), no entrance fee charged for spectators.
How to enter: Visit www.racecontrol.co.za/
Accommodation options: a range of options at Afriski, from a backpacker lodge to ski chalets. See www.afriski.net/accommodation/ for details.
Spectator activities: Kids' indoor and outdoor play areas, hiking, monster rollers, mountain bike trails, gorge jumping and river swimming, abseiling, 4×4 off-road routes, day trips to Katse Dam, fly-fishing and Lesotho cultural visits.
For more information, visit www.afriski.net/events/2019/10/snow-rock-enduro-2019/ or connect with Afriski on Facebook here.