What is Mountain Madalas? We offer you the best Enduro routes in the best places possible – no racing , no pressure, just good fun with friends and family.  Our 27th edition of Michelin Mountain Madalas will be held on the 23rd & 24th April 2021 At Tower of Pizza, Amphitheatre valley, Northern Drakensberg, which is about 35 km from Bergville.  Riders please note that there are NO dirt roads to get to the Tower of Pizza and to the Amphitheatre Backpackers.
Directions to the venue can be taken off the Tower of Pizza's website, here is the link:  https://www.towerofpizza.co.za/directions-and-map/
For the Google maps link please click on this link:  https://goo.gl/maps/qMWauHdzaPxwC5zg7
Friday: Afternoon ride – BOOKING ESSENTIAL – This will be similar to the blue route of Saturday.  Riders MUST do registration first and have their stickers on their bikes in order to be allowed to do the Friday ride.
Saturday – we will have 3 routes that our riders can choice from but are not limited to:
– Green (easy) loop – (GPS) about 15 kms , this is for the kids, ladies and beginners who would  like a little bit more of a challenge.
– Blue Main normal Madalas loop – (GPS) about 30-40 kms. This is lovely flowing riding with a  few river crossings, rolling hills and amazing scenery.
– Red (Exteme) loop – (GPS) about 30-40 kms which is aimed at our roof riders who want a real challenge.
You will receive points per lap that you do and your total points for the day will represent the finishers medal that you receive.
License required?   NO racing license is required for as it is not a race.
NOTE: GPS required – route NOT marked 
Entry Fees:
R950 (R900 for EW Club members).
2nd Family member R650. (R600. for EW Club members).
The above entry fee price Excludes the Friday ride the cost for the Friday ride is  R200 extra.
First 300 to register and pay

before 14th April 2021

will receive a

FREE

Madalas t-shirt.
Enduro World does not deal with any accommodation bookings. For accommodation options contact Liza from Sure Travel Set.  For accommodation Enduro World recommends staying at the Amphitheatre Backpackers which is about 13 km from the pits – for bookings please contact Liza.   We will have our lucky draw here.  Details are below:
Call 016 349-2661 Cell: 071 871-2679
email: liza@travelset.co.za

Program of events:
Friday 23rd April 2021
12:00-18:00 – Registration
13:30 – Friday Ride Starts
Saturday 24th April 2021
06:00-09:00 – Registration
06:30 – 9:30 – Start (Kit up and start as soon as you are ready).
Finish Medal awarded
Please remember to collection your goodie bag, number sticker and T-shirt at register first before

riding. 
Riders Briefing will be a voice note sent our via WhatsApp and played on PA system in the morning.
Lucky Draw
The lucky draw will take place at Amphitheatre Backpackers ( 13 km from pits ) at around 6 pm , on Saturday evening ( bring your bike number sticker to get a ticket ),  You must be there in order to collect your prize.  There will also be a small outdoor after party happening here on Saturday night and they offer a lot of different accommodation options from lush green camping spots to luxury self-catering rooms. They have a funky bar and restaurant, a swimming pool and there will be a few Djs playing great music in the late afternoon and evening.
https://www.amphibackpackers.com/
https://g.page/AmphitheatreBackpackersLodge?share
Amphitheatre Backpackers
Amphitheatre Backpackers
Amphitheatre Backpackers
Amphitheatre Backpackers
Amphitheatre Backpackers
Amphitheatre Backpackers
Amphitheatre Backpackers
Amphitheatre Backpackers
Amphitheatre Backpackers
Amphitheatre Backpackers
ENDURO WORLD COMMUNITY PROJECTS is an NPO formed with a view to drive community projects, in the areas were we have our events, with the intention of up lifting the disadvantaged communities.

DOES YOUR COMPANY NEED BEE POINTS TO MAINTAIN OR IMPORVE ITS BEE STATUS? To achieve this we are looking for companies who are required to contribute a percentage of their NPAT (Net Profit After Tax) to Socio-Economic Development (SED) to maintain their BEE status.  Please consider Enduro World Community Projects when selecting where to channel your companies contributions/funds.  Your companies Socio-Economic Development contributions can assist our sport by uplifting communities around our riding areas, whilst earning you the BEE points you need.
Please remember our Sprinkle Orphanage in Bergville. We appeal to you to please assist in anyway you can – if not via BEE funds then please consider making donating of second hand clothes, toys, books and some food.  Thank you.
Or scan this QR code with your WhatsApp / cellphone camera: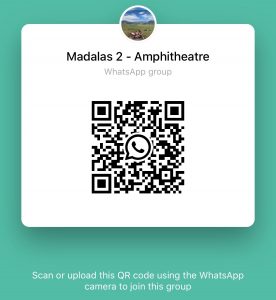 Bookings