The day calls upon women riders to "JUST RIDE!"
Background of IFRD
International Female Ride Day® a global movement and ride day for women motorcyclists who own, ride or have access to a motorcycle.
The day calls upon women riders to "JUST RIDE!"
It is a day which brings women together in motorcycling – while profiling and highlighting the diverse numbers of women who ride.
By participating and riding on this one synchronized, united ride-day, women mutually demonstrate their passion, devotion, and enthusiasm for the sport. Each and every woman participant is a role model for women in motorcycling and motorsport and contributes to the International Female Ride Day (#ifrd ) global missions implemented by founder Vicki Gray, to that of:
BUILDING AWARENESS of female motorcyclists; growing the number of women riders.
ENCOURAGING MORE WOMEN to take up the sport and ride.
International Female Ride Day© builds camaraderie among women and emphasizes the like-minded bond women share across all cultures of motorcycling and powersports.
The event occurs annually on the first Saturday of May worldwide.
Women participate by simply being on their motorcycle to "JUST RIDE!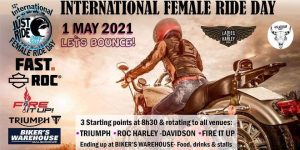 Johannesburg event
In the past smaller events were arranged by the various bikers groups but there has not been a consolidated big event. This year The Litas Johannesburg paired up with the Ladies of Harley to create one big event. We never anticipated that the responses would be so positive and we have many sponsors on board. The ride will start from 3 different starting points (ROC Harley Davidson, Triumph Sandton, Fire It Up Fourways) and will rotate to the other 2 starting points. The entire ride will end at Biker's Warehouse in Randburg where stalls are set up. We are trying to bring women together and support women in riding but also get as many women as possible to attend the event. Both The Litas Johannesburg and LOH have done similar successful IFRD events in the past – please find a link here for more photos: https://we.tl/t-pWo0DM7ICD
More information on the day and the ride is on Facebook under The Litas Johannesburg page – https://fb.me/e/1j5WMVwf7