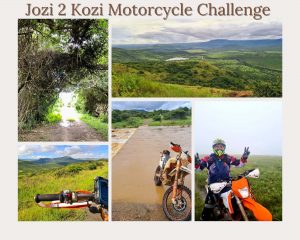 This year, Jozi 2 Kozi celebrates 6 years of exciting adventure + enduro rides. Every year GG and Gavin change up the routes offering you a different riding experience 🙌🏽
Experience some of South Africa's most beautiful landscapes and tracks less ridden, on what will prove to be a truly unforgettable experience. Whether you're rocking an enduro machine or cruising on a dual-sport monster, we have an amazing route for you. Crossing the Northern side of SA, through the land of the Zulu Kingdom, our routes encompass the spectacular countryside, people & cuisine. Ride on Jeep & single tracks and choose an Adventure, Rallye or Enduro route👌🏽
2021 Dates:
🇿🇦Winter Edition: Wednesday 04 – Sunday 08 August 2021
🇿🇦Summer Edition: Wednesday 29 Sept – Sunday 03 October 2021
👉🏽Bookings are limited to 25 tents + 25 rooms: 50 riders + organizers
👉🏽Riding Options: Adventure Green & Red, Enduro Rally, Red + Green
👉🏽Ride at your own page – GPS routes + daily biker briefings.
👉🏽Medical Assistance with Outdoor Medical Consulting: Enduro Bike + Ambulance
👉🏽Technical & logistics team, luggage and backup vehicles
👉🏽Lodge or Camping options ( we supply 25 tents + mattresses)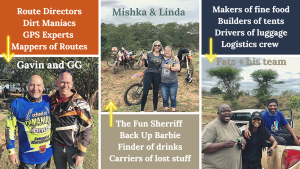 Wednesday 
We start the J2K adventure at Country Trax in Amersfoort. Get their early + enjoy riding the enduro routes on this spectacular farm. You'll meet the infamous Jan Du Toit who'll take you on an unforgettable riding adventure on his farm🤟🏽
Registration from 3 pm and we enjoy snacks and an open bar
Welcome & Dinner
Overnight at Country Trax
Thursday
After breakfast, ride spectacular routes down the escarpment
Lunch stop in Paul Pietersburg
Dinner + accommodation at Bivane Dam
Friday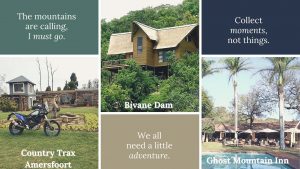 ·         Breakfast at Bivane Dam followed by some seriously local riding to Mkhuze 
·         Lunch en-route at a local Shebeen
·         Arrive at Ghost Mountain Inn & the fever tree-ringed Mkhuze Cricket Club next door to Ghost Mountain Inn for the campers.
·         This is our glorious home for 2 nights
·         Briefing, sundowners & dinner at the Mkhuze Cricket Club
Saturday
·         After breakfast we ride the local adventure & enduro routes that take you to Lake Sibaya – charge up your cameras; it's another spectacular riding day!
·         Lunch stop in Sodwana and a superb riding routes back to Mkhuze
·         Final dinner at the Mkhuze Cricket Club 
Sunday
Breakfast and then head home at leisure OR stay another day…..☑️
Monday 09 August is a Public Holiday – we have more riding routes for you!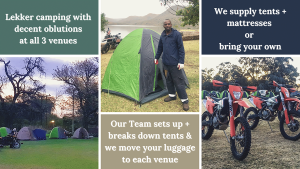 Pricing:
Camping R 7500 per person
Camping Pillion/Back-up Driver R 7000 per person
Camping: Own Tent R 7000 
Lodge Accommodation (Bed) R10 000  per person sharing
Lodge Pillion or Back-Up Driver R 9250 per person
Weekend Package for Partners/Back-Up Drivers: R 3200 for 2 nights fully inclusive at Ghost Mountain Inn.
Accommodation is only based on a person sharing basis. Single Supplements are available at Ghost Mountain Inn at an additional R 2500 for 2 nights.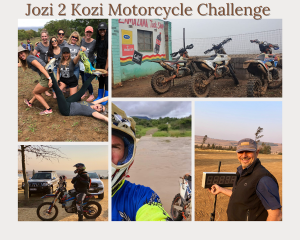 Price includes:
All accommodation
All Meals
GPS routes
Outdoor Medical Team
Logistics and Luggage Team
Technical support team and Backup vehicle
The infamous Jozi 2 Kozi T-shirt😎

Price excludes:

·         Drinks and snacks

·         Fuel (all fuel stops are listed on your  GPS routes) 

·         Transport to and from your home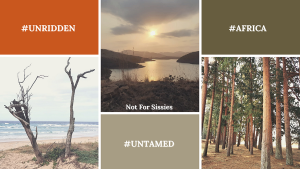 BOOK NOW
What are you waiting for 👉🏽Book now on this link – click HERE!  Should you have any queries or need more information, contact Mishka Moller via WhatsApp 082 789 9999 or drop me an email: mishka@personaltouchonline.com
Follow us on social media for updated information: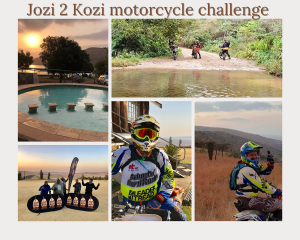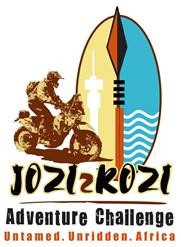 Jozi 2 Kozi
Annual motorcycle challenge
Enduro and Adventure Bikes 
mishka@personaltouchonline.com
#untamed #unridden #africa