The XRAMP allows you to load and haul your motorcycle quickly and easily! It features the capability to carry bikes that weigh up to but not exceed 300kg.
The easy-to-adjust X-RAMP is constructed with a steel platform and ramp in a black powder-coated finish that can be used to load your motorcycle. Carrier is made with durable, long lasting solid steel construction with powder coat finish and comes with a 12 month warranty.
XRAMP DETAILS
Track Length: 1.875 Meters
Track Width: 14.5 Centimetres
Capacity: 120 Kilograms
Price: R 4500.00
(Excluding courier – there is an extra courier charges of R250.)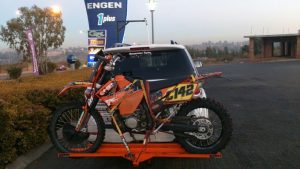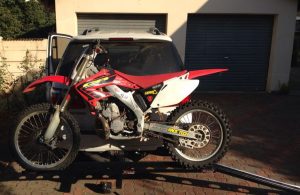 XRamp Review by Denise Forsyth:
"Empowering" is a trendy word nowadays and is said to be the answer to boosting our economy. Well now you can empower even a small car and, in the process, yourself … as I have just discovered.
I am very passionate about my riding but I rely on my hubby to load my bike on the trailer and take us out riding. However sometimes that cramps his style or I want to go join lady riders on a different ride – up to now that has been frustrating as I haven't had a tow bar or alternative means of carting my bike.
I assumed my options were to sell my little VW Citi Golf Rhythm and buy a small pick-up truck, or a bigger car that could tow a trailer. Then I discovered a much simpler, less costly solution – the X-RAMP. Little did I know it can be fitted to almost any small car.
But first I needed a tow bar. Marthin from X-RAMP referred me to WEBB TOWBARS and I went off to meet Kelvin. This friendly man knew exactly what he was doing and fitted the towbar and X-RAMP while we waited. The towbar is very well hidden and very neat with most of it hidden neatly behind the rear bumper.
Kelvin fitted the X-RAMP adapter and showed me how it all works, so the whole procedure was a one-stop-shop affair and very painless.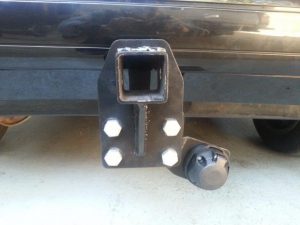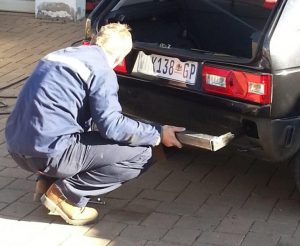 Then came the test.  I was a bit sceptical at first because my vehicle is small and I was worried that it would not be able to hold my bike – which weighs about 110kg's.  But I had nothing to worry about – it really is so easy to use and works so well. I was able to put the X-RAMP on the extension, bolt the ramp in, load my bike and off I went in no time. That first time I used it I was so proud of my little car and my new-found independence.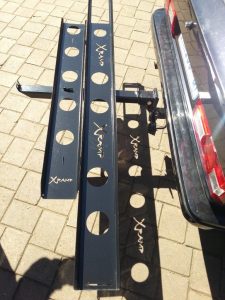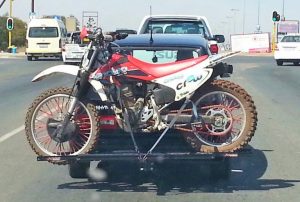 The X-RAMP comes with a ramp for loading which hooks into position to make sure that the ramp will not fall off while loading your bike.  The ramp is stored parallel to the X-RAMP and has a small latch that holds it in place while you travel.  I also find it very easy to off load my bike.
I am extremely impressed with both the tow bar fitting/ extension and the X-RAMP.   The X-RAMP is quick and easy for anyone to use and is such a convenient way to load your bike for a ride without the need for a pick-up truck or the hassle and expense of a trailer.  It makes such a difference knowing I now have the X-RAMP and that I can load my bike for a ride at anytime with ease.  Truly EMPOWERING!