It's time for everyone to dust off their sense of adventure – Stofskop is back!
The 2019 edition of the social motorcycle event, The Motul Royal Randfontein Stofskop, will take place at the Randfontein Oval Raceway on Saturday 7 September and offers a wonderful day out for the entire family.
Gates open at 10:00am with the riding starting at 12:30pm and whether people come to ride or support, the enthusiasm is bound to be infectious – as it is every year.
The Stofskop is perhaps South Africa's most welcoming motorcycle event, with the main entry requirement being that participants 'run what you brung'. Stofskop is also famously relaxed and non-conformist, as befits an occasion when the flat, oval dirt track takes centre stage and the riding classes are designed to entice both hobby riders and die-hard enthusiasts.
The bikes aren't the only reason to come along and have fun in the sun – and in the dust. Between races, spectators can stroll amongst the food and craft beer vendors and check out the bike bits on sale. As well as dust and the smell of petrol, there's a distinct craziness in the air. This is an event where people can dress up, and no-one really minds if you mess up. After all, it's not about the winning but the taking part – and having the most fun along the way.
Spectator tickets have been kept at the same low prices as last year (just R20 per person, with kids under 12 getting in for free).
"The success of Stofskop shows that when it comes to family motorsports entertainment, dust is a must," added Stofskop's chief organiser, Chris Shelvey. "By creating an annual event with very few rules, we've ensured that everyone feels welcome, and that helps explain why Stofskop has grown into the slightly crazy occasion we all know and love".
Stofskop attracts every kind of rider, so spectators can look forward to seeing almost every kind of motorcycle in action. Full details of category entry requirements can be found on the Stofskop website, but broadly speaking, bikes must fall into one of the following classes:
Inappropriate Road Bike
Moped Mash
Chop's & Bobbers
Scrambler and Tracker
Plastic Pigs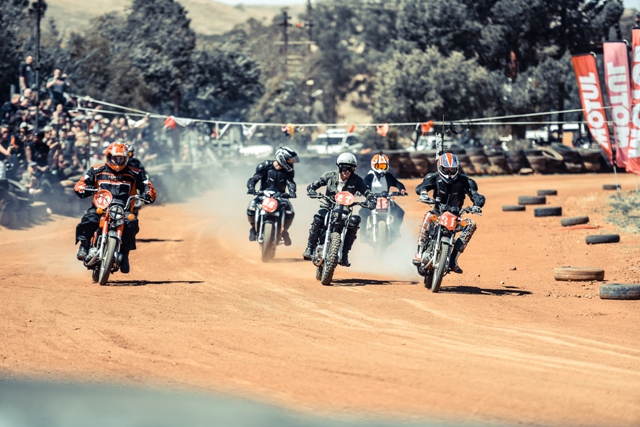 Riders wanting to take on the challenge of the Randfontein Oval should email chris@stofskop.co.za before Friday 30 August, 2019. Entry is just R350 per motorcycle. For more information go to the official Stofskop Facebook page. To learn more about superior oil and lubricant products, visit the Motul website